Lotto Systems (Engelsk)
Reduced Lotto and Keno Systems (Wheels): 7 Numbers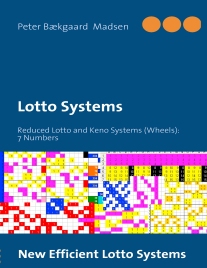 For this book I have designed 12 new systems for Lotto and Keno 7. Although the systems were primarily designed for Lotto (with 7 numbers), they can, however, also be used for Keno 7.
I wrote this book after several readers of my first book encouraged me to make new and improved systems. Here they are!
R 12–10
R 12–15
R 12–38
R 13–22
R 13–30
R 14–40
R 15–45
R 16–50
R 17–60
R 18–70
R 18–80
R 18–100
The systems are reduced systems. I have done my utmost to make them as efficient as possible. In several cases I have even been able to design the systems with an improved guarantee at fewer lines than in other available systems.
I have added some of the win systems mentioned in my first book as a bonus.
G 14–2
G 15–5
G 16–6
G 17–11
G 18–12
G 36–251
Køb bogen direkte hos forfatteren. Pris: 49,00 kr./stk.